In a Fish Bowl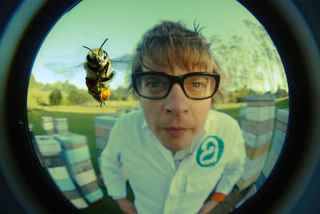 Nick Buckton finds it funny when I confess I don't know how to work a kazoo. That I couldn't even identify it as one cracks him up. "It's a kazoo!! What do you mean what is it!?" the SideKickNick main man laughs. "That's so funny!" Popping into a café to have a quick bite to eat and to chat in his lunch break from where he's currently working at an ad agency down the road, Nick is a hilarious, friendly and down-to-earth dude. He says the make of the kazoo we speak of serves him well. "They've been a real hit!" The freelance sound engineer, whose previous claim to fame has been as bass player for the revered local pop band Voom, has spent the last ten years working on and off on his debut album, Miscellaneous Adventures. "It was really quite a solo effort," he says, "just me after work or on weekends, at home just mucking around with instruments and stuff." This is the first year Nick can proudly say that music is his "main thing".
The ten years that Nick spent tinkering away in his home studio meant that by the time he sought that elusive record deal he already had the finished product. "When I first approached Sony, or they approached me, or whatever, a year or so ago… I had the album finished. It was mastered, the artwork was done, it was just like–" he mimes handing out a CD, "it was done. But I think that they liked the whole thing, you know. The art and the band and the music; everything. I think they've trusted me to keep going with that. Like, 'oh you're going down a good path, just keep going with that, keep being artistic, give it your own artistic direction and we'll support you in stuff'."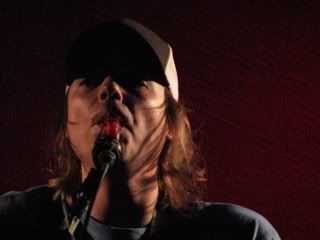 SideKickNick live at the bFM Fancy New Band showcase earlier this year, at the Kings Arms
Now with a license deal allowing him that all-satisfying creative freedom, Nick has a hand in everything from the videos to the posters, something that comes across as a bit of a burden when you're working freelance and you don't even have enough time or energy to go food shopping. "I haven't been able to go food shopping for weeks eh, I'm getting a little bit slack. I'm not really home much," he says a bit mournfully. But you just know he wouldn't rather be doing anything else. "I don't really feel very satisfied if I'm not doing something or outputting or have something to show. That's why I've always had a studio in my house, that's what I really like about music… I can just press record and I've got something to show for it straight away." To him, making music is "instantly gratifying".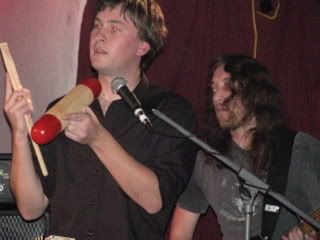 Brendan Morrow (left) and Murray Fisher (right) as SideKickNick's Technical Difficulties, live at Fancy New Band
While naturally being a working musician means you're usually so busy and tired you sometimes have to take a weekend out from everything just to lie in bed and stare at the ceiling, Nick coincidentally plays the kind of music that would make the perfect soundtrack to that. It can swing between sashaying party music to dreamy odes to Brit Pop suburban balladry. It brings to mind a cheekier Blur or more creative and quirky Phoenix Foundation, a more instrumentally-experimental Air (circa Moon Safari) or a sonically brain-surfing Darcy Clay. With cascading harmonies and more prevalent puns than an episode of The Office, you can just tell that Nick has been more considered and thoughtful with his music-making than most ever could be. Time was on his side, but when you think about it, anyone could spend ten years making an album. It's the creative flair and innate (and hilarious) sense of humour this childhood-talent has that sees SideKickNick excel above the herd/flock/school.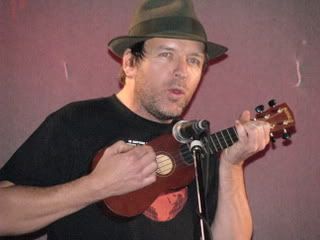 The Technical Difficulties' Peter Hobbs on ukulele at Fancy New Band
Growing up travelling the world with musical parents, Nick tried piano, trumpet, bass guitar and almost every other western instrument he could get his hands on. Deciding not to try and play all of these live, he enlisted some mates to join him on stage as the Technical Difficulties. Murray Fisher, formerly of Goodshirt (bass), Michael Franklin Brown (drums), Peter Hobbs (guitar/backing vocals) and Brendon Morrow (keys/fruit/backing vocals) all add to the live SideKickNick party, enabling Nick the freedom to play such other things as the kazoo while, you know, singing.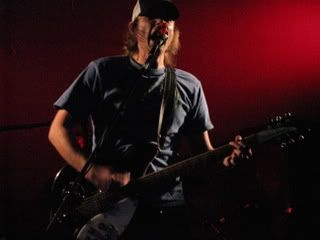 SideKickNick live at Fancy New Band
"I've been typecast as a kazoo guy, it's ridiculous!" he scoffs. "Oh I don't mind, but I do actually only use the kazoo in one song, Something In Your Eyes, and it's only doubling the whistle, it's actually quite subtle. But it's just live I use it, and on one of my b-sides…" Of the album, he says the cohesive and thematic effect wasn't exactly intentional. "I really like eclectic music eh, but I think the album is already eclectic enough. Cos nothing was recorded at the same time in the same room doing it the same way, every song is actually constructed completely independently from the other one."
He picks up the purple plastic kazoo, "That's a perfect example of what a record company can do for you, with their initiative! They bought a box of kazoos and put stickers on it!" he blows a perfect little snazzy tune into it. "You know the funny thing is, I've been working on this Sanitarium ad for these light and tasty cornflakes, they've got manuka honey on them."
Cool! Do you get free cornflakes? I ask.
"No. But I did get two big bags of Skippy cornflakes this morning, cos I did some Skippy ads. We were using the sound of the cornflakes in this radio ad, cos the bag of cornflakes talks, by rustling; it's really silly. But they were all like broken up into tiny little pieces, cos we'd been going like kgrrrrrr (he pretends to grab a bag of cornflakes and squeeze it with his hands) for an hour, and I said to this suit like 'oh, I really like broken up cornflakes,' and he was like 'oh, you can have them!' and I was like 'yussssss'" he says quietly.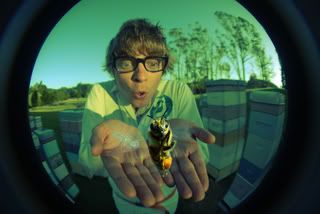 "So I've been doing this 'Light and Tasty' ad, and it's got a bumble bee flying around, and there's a shadow of a bee flying around in the background, and I was putting bee sounds in and the client comes round and says 'no, it sounds like a fly, that's really gross!' So do you know what the solution was?" he puts down his bagel and picks up the kazoo. "To make it sound more cartoony, which is why I'm a little bit late, cos he kept hassling me about it, he's like 'have you done the kazoo yet!? Have you done the kazoo yet!? And I'm like 'no… I'll do it!'" he plays the kazoo, imitating perfectly a bee swarming, buzzing around, getting louder and quieter as it zooms around. "And it's done the trick!" he exclaims proudly. "So I was like, that's real lucky that I just happened to have the kazoo in my bag!" Nick doesn't have to rely on his kazoo for success, though. Hilariously funny and seriously multi-talented, the guy who seems to be everyone's friend is rocketing through life like one of the dinghies or detached eyeballs or cricket bats or bunnies that move when you hover over them on his homepage. Choice!
Win a double pass to SideKickNick's album release party!
Email your name to sarah@einsteinmusicjournal.co.nz
by Thursday August 28 at 5pm. The winner will be notified by email.
SideKickNick – Amputee Acrobat: MP3
SideKickNick – Got A: MP3
SideKickNick – Myspace
Posted by Sarah Gooding under New Zealand
No Comments
---
No Responses to " SideKickNick "
Comments:
Leave a Reply