Bonaparte, Over The Atlantic, Little Pictures and The Ribbon
Friday, February 27, 2009
Cassette #9, Auckland
Something about Cassette #9 makes people go crazy, perhaps it's because a lot of them don't go to gigs all that often, who knows? But I think Bonaparte could make a crowd anywhere go nuts. I heard after the gig from someone that he thought the Auckland crowd wasn't crazy enough and that he wanted a stage invasion. Perhaps Auckland crowds could learn a few tips from Wellington gig goers, where Bonaparte seems to get a pretty awesome crowd every time he plays.
Accompanied by tambourine player Tosh and his own wicked electric guitar, Bonaparte bounced his way through an hour-long set of raucous rock and roll. People jumped, pushed and danced around, feeding off each other's energy to make it one hell of a party. Tosh did her best, acting like the sidekick to a circus ring master, spurring on the crowd and at one point dancing with them waving around her two tambourines. It was so great to see people genuinely having fun at a gig, perhaps the new venue has kicked the life back into the live party scene.
Over The Atlantic was again flawless in their execution, despite the odd sound difficulty. However the crowd didn't seem to notice and the group of young girls swooning over the band were very cute. I have never seen Over The Atlantic play a bad set, even with a borrowed bass guitar that hadn't been played for five years, their sound was amazing (although on stage it was apparently not so good).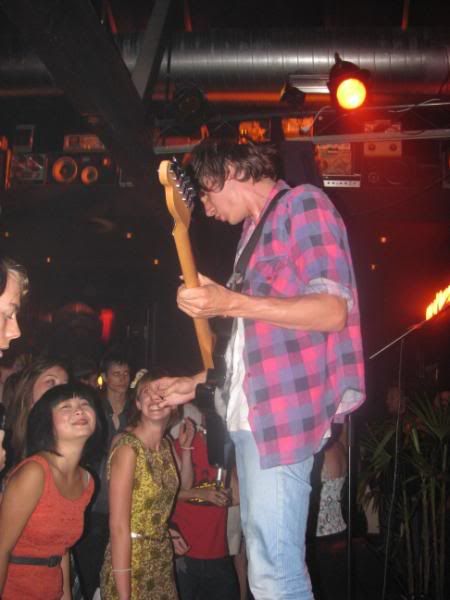 I hadn't seen Little Pictures play for a few months and to be quite honest I'd grown a bit bored of them. But to their credit, they really have upped their performance. Little Pictures could now be described in the genre of hip-hop; their live performance included some super heavy beats and backing tracks that had some intriguing raps. Their version of Weezer's 'Buddy Holly' however, crashed to the ground and perhaps could be left out of their live set next time. I do still have a slight problem trying to work out just exactly what is being played live though, the music continues when the playing stops, which is quite puzzling.
The Ribbon had a similar problem, but on a different scale. Sarah pointed out to me that you couldn't hear the guitar parts at all, and all the music seemed to be coming from a backing track. That said, I did really like The Ribbon's music, as mentioned when I reviewed their album, they remind me slightly of TV On The Radio. They were also a good band to kick off the night, as their music was chilled and quite hypnotic. They didn't quite get people screaming and dancing like Little Pictures did.
More Bonaparte, Over The Atlantic, Little Pictures and The Ribbon live photos
Posted by Nick Fulton under Live photos
[9] Comments
---
9 Responses to " Bonaparte live photos "
Comments:
Leave a Reply