Changing Gears

The affable drummer for literary folk/rock band Okkervil River talks about the pitfalls of SXSW, trying to do an eco tour, the first woman to join their band and the weirdest place they've ever stayed on tour.
It's Winter in New Zealand, we're in the midst of a recession that never leaves our news or our minds, so it's a good time to finally take heed of the advice from 'sustainable living' preachers and actually muck in. Travis Nelsen, drummer for Austin, Texas band Okkervil River, was driving back from the 'general store' when I talked to him recently. "I've been trying for the last two years to get my vege garden going, so I'm in the works of digging my garden up," he explains. His literary folk-oriented rock band is in New Zealand for the third time, playing in Auckland tomorrow and in Wellington the night after.
The band isn't unfamiliar with sustainability of course, their last big tour was an eco-friendly venture, but due to outdated public transport systems it didn't go as well as they hoped it would.
"We were trying to encourage different groups to ride their bikes to the shows, carpool or take public transportation. And in a lot of cities in America public transportation is so terrible it's not even possible really, or even riding a bike, people live like 45 minutes away from the club. But I think for our first attempt at doing it, it was actually quite successful. We didn't sell as many of the stickers that we were trying to, to raise money to offset the carbon from arriving there. We tried to carry it on to Europe, where that didn't really go over at all, but we did get a lot of local bike organisations to participate in it and like 20 or 30 people would ride their bikes down. So you know, it was the first time we tried. There's so much waste when you go on tour, so many paper plates and paper cups and cans… it's such a wasteful lifestyle."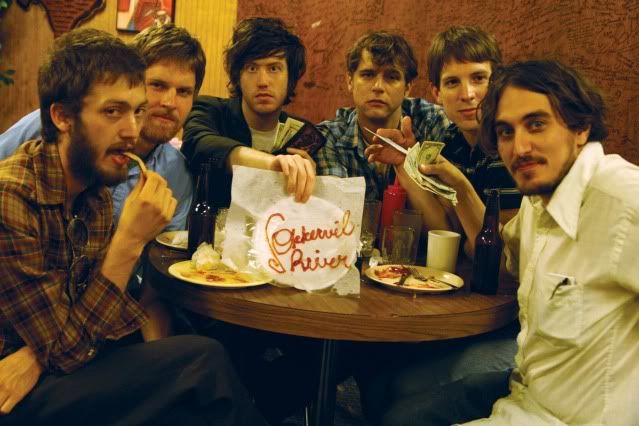 The 11-year-old band has quite a following in their hometown. Based in the home of SXSW, they naturally played again this year, and it "was great, it always is", Nelsen said. "It's weird playing to a SXSW crowd, because here we are in Austin, our theoretical 'home town', and there are, I'm sure, a lot of people from Austin at the show, but there are people from not only the US but around the world, so it's kind of an interesting crowd. It's like you're playing in Austin but it's not like playing in Austin at the same time."
It seems odd that bands as established as Okkervil River play festivals such as these, which are seen by many to be showcase opportunities for young, emerging bands. Yet this may underpin the band; being over a decade old but still not quite broken out of the underground, they have steadfast fans but no real mainstream success to speak of. So while they take up valuable set time at SXSW, they have no desire to step out of this comfort zone any time soon. "I don't think we're attracting so much industry people anymore, because people know we're not going to leave our record label, and we've got a booking agent, so we're pretty much happy where we are. We've had the same record label ever since we got signed, and we don't plan on going anywhere. We sort of had everything that bands look for when they come to play SX, so for us it's just going and playing to the people, we're not really there to do much business."
The popular Kiwi perception of SXSW as an easy opportunity to get signed, get a manager and get a booking agent are ill informed, says Nelsen. "Not many people" get a break there, he says. "Although I will say that when I was 19 years old, I lived in Wisconsin, and my band got into SXSW and we played the worst night of the week and got signed to a major label. So it does occasionally happen. Now of course we were dropped six months later, but hey."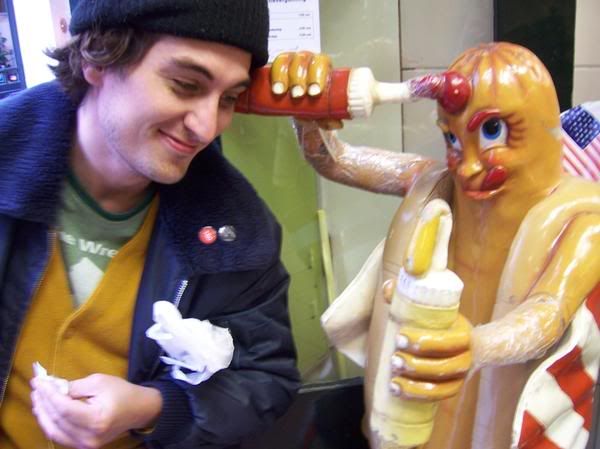 The festival also brings with it typically negative changes for citizens. "You're downtown where all the clubs are, and you pay $2 for a slice of chicken pizza and then during SX and you go to buy the same piece of pizza and the guy will be like 'that's $3.50', and you're like 'man! c'mon! I hang out here every weekend!' and then sometimes they're like 'let me see your driver's license, to prove you're from around here,' and I'm like 'ok, ok,'. But you know, you go into a bar and it's an extra dollar for a drink during SX, everyone's just trying to get as much money as they can."
Previously all guys, Okkervil River now has Lauren Gurgiolo on guitar, mandolin and banjo. Nelsen says "she's probably the best guitar player that we've ever had. She fits right in, she's a little bit tomboy-ish when it comes to hanging out in the van and stuff; she's a tough girl. So I'd say that it makes us less boyish to have her around but the matter is that we're all a bunch of girls to begin with!"
Though they've played with Lou Reed and enjoyed success to a certain degree, the band has thrived because they say they never expected anything to begin with. "We never did an Arcade Fire thing and sold a million copies after one record. We just slowly but surely played to a little bit more people, and sold a little bit more records every time. It's been over ten years; if we keep playing 'til we're 60 we might have a gold record!"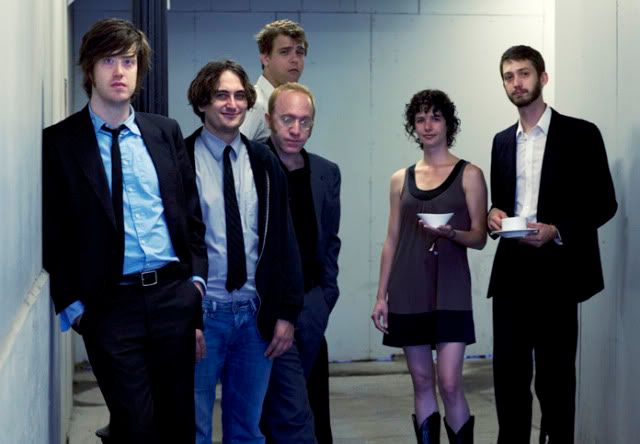 Though with success comes stalker-like fans who pop up at shows around the world. It sounds like they've also stayed with some of them. Nelsen, with his obvious love of storytelling, indulges us. "We were at some place in South Carolina where backwards redneck people are, and we were staying with a waiter who worked at the club. So this guy is really excited about us staying there, this was a long time ago, and he wanted to play video games, but we had to get up the next day and we had a really long drive so we were kind of like 'sorry man, I think we're just going to go to bed'. He was like, 'it's early!' and it was like midnight.
"He was kind of bummed, so he went back to his bedroom, and the noise from his bedroom started to get louder and louder, and we sort of thought, yeah, he's playing video games. But then it sounded like he was conjuring up spirits from hell. I don't know what was going on in that room, but it was getting loud, and there was like chanting going on in there. And one by one everybody got up off the floor and went out to the van to go sleep in it, until like I and one other person were the last people on the floor, and at that point I started to hear something walking towards me from behind me, and I was lying on my back, and it started to get faster and faster and faster, and I jumped up right at the end and I could see a like 60 pound dog lick my face, it was like a monster from hell. I still don't know what that guy was doing in his bedroom, but at that point the music he was playing was so loud and creepy that we just got up and got in the van and drove away." Let's hope they're put up in a hotel this time.
Okkervil River play Tuesday May 12 at Kings Arms in Auckland with Dictaphone Blues and Wednesday May 13 at Bodega in Wellington with Family Cactus.
Okkervil River – Singer Songwriter: MP3
Posted by Sarah Gooding under U.S.A
No Comments
---
No Responses to " Okkervil River interview "
Comments:
Leave a Reply