Deerhunter w/ Dear Time's Waste
Monday, June 15, 2009
Montecristo Room, Auckland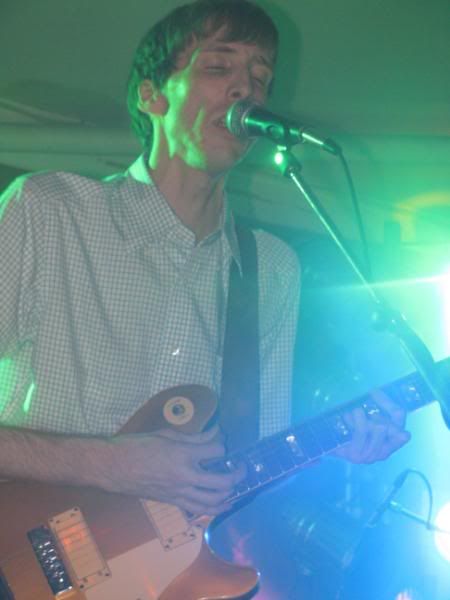 Deerhunter frontman Bradford Cox caused a stir yesterday afternoon on Matthew Crawley's 95bFM show 'Happy Monday'. He was being deliberately obnoxious, swearing profusely and asking wonderfully curious, childlike questions. It was the best thing I'd heard on bFM in ages, probably EMJ's favourite thing we've heard on bFM ever. So here goes our public plea for a podcast of that wonderful train wreck of a show. Please!
We arrived at Montecristo Room with high hopes for a deliriously delusional show much like the weird freeform conversation earlier on-air. We were hardly disappointed, but it seemed Bradford had gotten his erraticness out of his system, and I'm rather thankful for that, as Deerhunter was able to jam ceaselessly for about an hour straight, whiling me away into a euphoric bliss.
Their perfect, beautiful, dense sound was unblemished – the previously flailing sound of the venue seemingly fixed for the night, miraculously. The lighting was enveloping and sublime, perfectly suited to the night's music and totally utilised. It's been a long time since such awe-inspiring lighting dynamics were used to such poignancy at a gig I'd attended (Spiritualized was the last, I think). After the hour-long jam – which kicked off so amazingly I could have walked away satisfied three songs in! (This hardly ever happens!?) – Bradford stopped to talk, rubbing his wrists and with a wide, beaming smile gleefully asked for someone to demonstrate the haka for him, as he'd never seen it and couldn't find it on the internet, because "New Zealand doesn't have internet".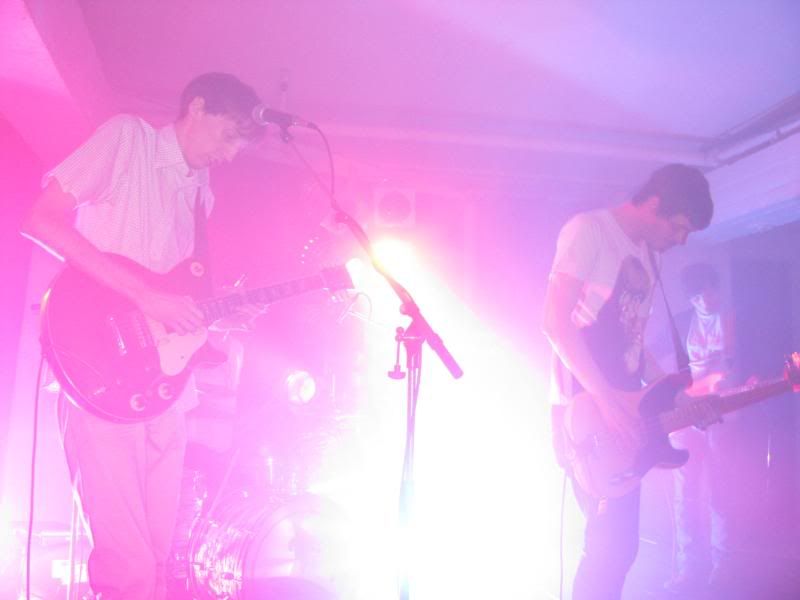 Surprisingly no one was keen to trade their crowd-bathed anonymity and dignity for a free T-shirt, but there was some enlightening band/crowd banter going on at one point, which resulted in Deerhunter sort of making fun of No Age. They went on to play for another half hour or so, more extended, free-flowing shoegazey jams than the preceding 'poppier' 'hits'. Easily the highlight for me was the epic 'Fluorescent Grey', followed closely by the eerie 'Cryptograms' and the raucous 'Nothing Ever Happens'. Josh Fauver proved his might with his effortless bass playing, full of energy and eloquence, strumming and picking and doing powerful finger tapping, it was an awe-inspiring bass performance and I could have watched him and his goofy smile all night. But Bradford's towering guitar lines and skyscraper frame held the spotlight nonetheless.
It was heartwarming to see a band that, as silently humble as they may be, hugely enjoy what they do to the point where they pack the meanest of punches musically, and the intoxicating combination of talent and enjoyment combined to form the greatest of gigs. They raised the bar for gigs in our fair town, that night will be forever engraved in my memory.
It also helped that the night was kicked off by the impressive Dear Time's Waste, whose Clare Duncan proved she can out-sing most Auckland residents any time, even when she's got the flu! DTW is growing stronger and more cohesive all the time. More than able musicians in their own right, on first impression they seemed slightly fragmented and unsure of themselves, but after touring and gigging extensively they have become a real force to be reckoned with. Clare's enviable vocal range and skillful handling of her jaw-droppingly beautiful Rickenbacker guitar, together with the lean and stylish image the band cuts makes DTW a really enjoyable and professional act. With their mesmerising songs pulling a gauzy curtain over the early evening they really set the scene for a memorable gig.
Deerhunter- Fluorescent Grey: MP3
Dear Time's Waste- Clandestine:MP3
Posted by Sarah Gooding under Live photos
[2] Comments
---
2 Responses to " Deerhunter live photos "
Comments:
Ben says:
June 19th, 2009 at 11:57 am

Was my first Montecristo gig…sound was about as near perfect as I could imagine. Ditto on the lighting. Kudos to all involved. Oh, and Deerhunter ripped my face off!

David says:
June 19th, 2009 at 4:10 pm

Good review and cool pics.
It was a pretty rad night!
Leave a Reply