Gently Crushing

(On)

You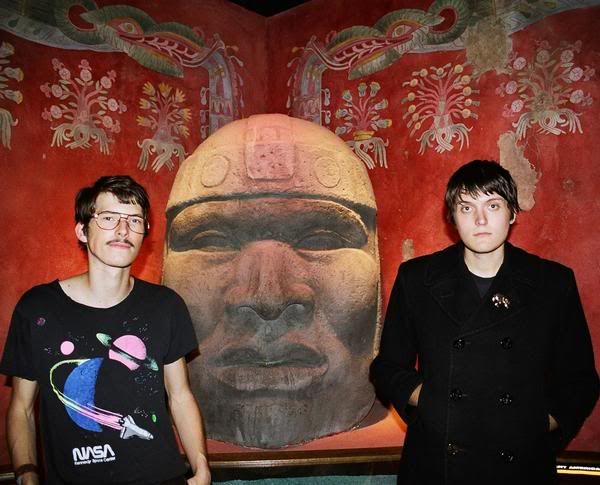 Akin to what would be found on a Wes Anderson film soundtrack, cute all-American crush-pop band Miniature Tigers is like a symphony of dreams. Their plush orchestral pop on 'Tchaikovsky and Solitude' has a heated desire wrapped up in its popping click track rhythms and grand, majestic harpsichord. The infinitely cool Americana of country/pop odes 'The Wolf' and 'Cannibal Queen' are incredibly endearing in their sun-soaked harmonies, warm pop melodies and clappy rhythms. 'The Wolf' is my pick for favourite. Charlie Brand and Rich Schaier from Phoenix, Arizona, make up Miniature Tigers (though they seem to employ others when performing live), and they released their third album Tell It To The Volcano in February. So understandably Miniature Tigers' sound is rather low-fi, being a two-person job on record, but at times they reach peaks of richly decorated pop tapestries, layered with tinkling keys, strummed guitars, organs and choruses of harmonies. The clear pop melodies remind me of Adam Green or Ben Kweller, they have a soft, unaffected charm about their crush-worthy simplicity. Here's someone who listens to a lot of classic pop songs by Weezer and The Beatles. In fact, their influences listed on their myspace page include Wes Anderson, Stanley Kubrick, The Kinks, Lord of the Rings, Eckhart Tolle, Super Smash Bros N64, Frasier, Ricky Gervais and Harry Nilsson. Those who listen widely always come out with considerably more developed and impressive results, here it shows in spades.
Miniature Tigers- The Wolf: MP3
Miniature Tigers- Cannibal Queen: MP3
Miniature Tigers- Tell It To The Volcano: MP3
Posted by Sarah Gooding under U.S.A
[2] Comments
---
2 Responses to " Miniature Tigers "
Comments:
mjfan says:
June 26th, 2009 at 11:16 am

Michael jackson just died!

http://www.moshboxradio.com/2009/06/michael-jackson-dead-at-age-50/

David says:
June 26th, 2009 at 4:28 pm

Woah! I like this a lot!
Leave a Reply