Empty Streets I Walk For You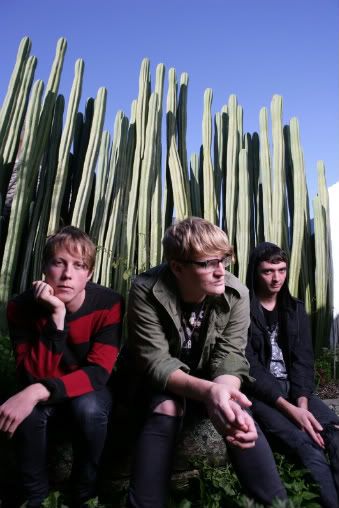 Their third album Form only came out this week, but Die! Die! Die! has already recorded the bulk of what could potentially be their next album. Andrew Wilson and Mikey Prain tell us about how they came to sign with Flying Nun and dealing with the competitive overseas market.
Despite the lengthy delay between 2007's Promises, Promises and Form, Die! Die! Die! has not actually been on hiatus, as has been reported. Over the past three years the band has been touring extensively and writing new material, however, they are still concerned about traction they might have lost overseas. "If you're not continually doing stuff you lose really quickly any momentum that you were getting," Mikey says, as I sit down with him and singer/guitarist Andrew Wilson at Alleluya Café. "In music terms, three years is a forever amount of time… And everyone's on such a quick turn around over there, especially in the UK. They want a new band every six months."
To compensate, from August they plan to base themselves mostly in Australia. Andrew says, "We do quite well over there, the same kind of level as we are over here (NZ), so it makes sense to be able to keep playing at the same level." America is the next stop in October, most likely to play the CMJ Festival, despite their open disdain for industry festivals. "I find they're getting worse and worse," says Mikey. "The first time we went to SXSW and CMJ it was kind of exciting… and then it kind of becomes really ugly, just a whole bunch of industry people and bands trying to get on top of each other. It's like the world cup of music." They say this culture, coupled with economic pressure, has seen bands streamlining into mediocrity. "Music has changed a lot in America," Andrew says, "there used to be so many crazy bands over there, and now it seems like there's a lot more music-music now". But that's not to say they're not excited to go back.
"I'm really optimistic about America, 'cause I don't really think we're going to become the biggest band in the world, but I can see us continuing at the level which we were at, which would be fine. We used to get good crowds in New York and the main centres, and that's fine. I don't really ever want to tour the mid-West again," he shudders. "Maybe if it were house shows."
"We turned down all these other deals that people had found for us, 'cause they weren't really what we wanted."
The insularity of the New Zealand music scene has kept them cozy, but has also dogged them over their six year career. Die! Die! Die! is a well-known subject of public discourse and people tend to have a polarising opinion of them, so naturally they've relished the opportunity to keep on the road and not get bogged down with pettiness. "I think whenever you go away and then come back you feel a lot happier, because you're not surrounded by things," Mikey says.
This lightness of being comes through in Form's fully realised vision, delivered with an airy maturity. There's typical gritted teeth and tension, but now layers of opaque guitars mist over the normally skeletal structures. They don't exactly sound carefree, but there's an overwhelming sense of cohesion; they've hit the right balance of pretty and menacing.
"For this album it's been really good to experiment with new stuff," says Mikey, about working with engineer/producer Nick Roughan (The Skeptics). "He's got a really cool musical sense, and he's come from a place where he's done a lot of really interesting stuff and he can give us a lot more interesting ideas on how you can do stuff. It has been really cool, it's been a big thing for us. The last record Promises Promises, we left lots of stuff out. On half of it some of the drum tracks can only go through one speaker, and we forgot all the backing vocals. So it was good to do (Form) as well as we could… We put more into it."
The change is instantly noticeable, with samples more prevalent, and even synths, which Mikey says "we never thought we would ever do". And it couldn't have been released on a more appropriate label than Flying Nun. Having always led the way with the music Mikey, Andrew and bassist Lachlan Anderson have always adored, they're thrilled to have Flying Nun back and taking chances on artists you wouldn't automatically think would be a fit.
"I think they're gonna do really good things," Andrew says. "They're judging everything on music, which is really awesome. Look at that Grayson Gilmour album, it's not really my cup of tea but it is world class… It's not about hype or what's trendy at the moment. The thing that everyone's expecting them to do is to jump on that Flying Nun bandwagon that is going on in Brooklyn, and sign a billion bands that sound alike, and I think that's the opposite of what they're doing."
People didn't get Die! Die! Die!'s "emotional attachment to Flying Nun", Andrew says. "We turned down all these other deals that people had found for us, 'cause they weren't really what we wanted, so that kind of made a lot of people throw their toys out of the pram. Then they were like, 'you wanna go with this label who don't really have anything set up?'. We were kind of taking quite a big chance on them."
Flying Nun was always the label they wanted for New Zealand. Mikey says on major labels, "We've never wanted to be signed up to one of those things and become part of the institution that they are. I don't want someone telling us what our band's gonna be and what our band's gonna do, 'cause I think that would be the end of us." Roger Shepard wanted to help them, Andrew says. "He was going, 'If you guys sign to one of these major labels it's gonna be the end of your band'." Mikey agrees, "Basically it becomes more about money than music. All you become is a band on a piece of paper for them, and they've got lots of pieces of paper!"
They've already recorded the bulk of what could be the next album with Nick Roughan, at an old second-hand bookstore and at a studio in Mt Albert, Auckland. Andrew says, "We might release an ep or an album; we recorded like 8 songs, and then two really long kraut rock jams, but they sound too much like Neu! So we don't wanna release them now. Unless Neu! becomes really hip, then we'll release them," he says, tongue in cheek.
Die! Die! Die! is currently on tour throughout New Zealand, check the EMJ sidebar for dates.
Click to buy Die! Die! Die!'s latest album Form
Posted by Sarah Gooding under Auckland, Dunedin, New Zealand
No Comments
---
No Responses to " Die! Die! Die! interview "
Comments:
Leave a Reply