Inner Blizzard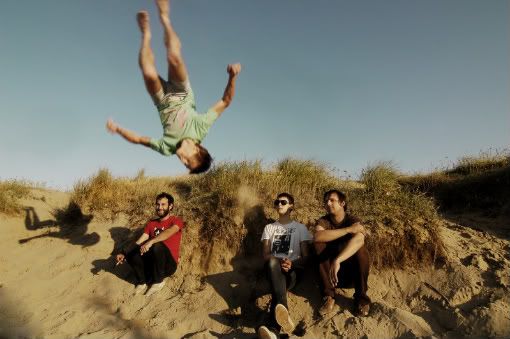 Women is a band whose sound is rooted in precision, but it's their experimental focus that gives them their edge. The lead single off their sophomore album Public Strain, 'Eyesore', is a multi-part pop opus that sticks in your head long after you've heard it. Driving through sparkling stark riffs into foggier dusky territory, Pat Flegel's scratchy voice and jangly guitar settle in with his brother Matt Flegel's bass, Chris Reimer's guitar and Michael Wallace's drums so cohesively yet all parts manage to sound diverse and tremblingly talented. Truly the most striking song they've produced yet, it is quite surprising in its lush fullness compared to the simpler, noisier jams and the rustling field recordings they pepper their albums with. It's more focused and song-like, akin to the plodding pace of acclaimed 'Black Rice' from their debut, but much more adventurous. Circular riffs binding around each other have become their trademark, along with an aggressively experimental tendency. But in talking to Pat I find a lot of their sound comes from restraint.
"Usually while we're writing… you don't have anything in mind, you just kind of do it and then you judge it after, figure out what you like about it, what you'd like to change." He says their intentions are to engage and challenge both the listener and themselves. "You don't need everyone to be walking all over the song." Often there's an emphasis on a certain instrument or the sound or production of a track.
"It's a combination of this very haphazard approach and then also this very meticulous approach."
Women are known for only recording to tape, using eight-track recorders or ghetto blasters with the help of engineer/ Flemish Eye label mate/ musician Chad VanGaalen. "Even just being around Chad in the first place puts a kind of pressure on you in a way, like a good pressure. He's just so productive, prolific, in every department. You'll come over to his house and you haven't seen him for a couple of weeks and there'll be like two hours of post-apocalyptic future synth stacks with beats, he's got like this huge poly synth set up. And then he'll have some kind of psychedelic animations on. So yeah it's just nice to be around someone like that, and like I said you'll be like 'Ok, well what am I doing?' – It makes you just wanna make things."
The band recorded both albums with Chad at his home. While their 2008 released debut self-titled album hones in on a '60s nostalgia in aesthetic, it frequently veered off into more psychedelic territory. Public Strain, their follow up released at the end of this month, takes this style and applies a poppier strain. While old songs like 'Black Rice' and 'Shaking Hand' definitely encompass that jittery pop, songs like 'Narrow With The Hall' and 'Eyesore' grasp that old pop style and run with it, through a thick of distortion. In essence the two albums are mostly alike, but you get the feeling they were trying to push themselves further this time with Chad. "The last one we recorded in his basement, and then he actually moved into a bigger house, very close to his old house. And he's got a two-storey garage set up. Upstairs there's sort of like a sauna in there and then downstairs it's just this giant concrete room. And then there's another smaller room that we did some of the vocals in and stuff."
With Public Strain they seem to have focused their vision more on producing skew pop songs with a psychedelic mask. When asked if Chad was as prolific with ideas with Women as he seems to be with his own material, Pat says, "I feel like he goes crazier with our stuff. We usually push things in a certain direction and he's up for anything. He's extremely patient, he's very open minded… it's pretty rare that he puts his foot down in any department if we have an idea. It's very rare that he'll say 'No!', it'll always be like 'Oh, so you guys wanna sound like shit?', and we'll be like 'Yeah!'" Pat laughs. "And then we'll proceed to do something silly. But yeah, he's great. Sometimes he'll just do things in the background while we're recording solo pieces, some subliminal buzz or humming or drumming or clapping or drumming. So yeah he's very much involved. Enthusiastic."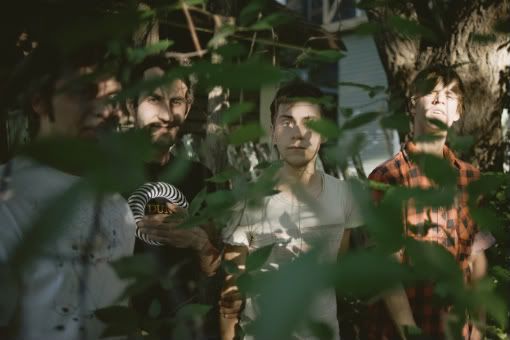 The rather haphazard approach they've taken to recording their meticulously crafted songs is vital to the end result of the sound. There's an edginess to it, perhaps coming from their love of '80s post punk but also from the feeling that things may not go according to plan. "I feel like for the most part we're considering with the recording looking at that as an art form and working within these restrictions and the eight track… And just trying to get certain sounds, I think that's something we're most concerned with."
Recording Public Strain was a very "serious" process that "took forever". "We all live slow, and we have no idea what we're doing most of the time, so, yeah, things moved along very slowly. And we'd get together a day here and a day there and then not see each other for a week, and then we'd get together and rehearse a song that maybe I had a sketch for and no one had heard… It's weird, I think it took about eight months but I feel like it sounds like it was recorded in a week, like it sounds very off the cuff almost." And they retained that mood while not practising every night or being particularly close; "Everyone is living their lives, trying to pay their rent and just going about their business."
They attain their skewed sound largely from Pat's two guitars, "one in standard tuning and one that's all C#, like every string", and the fact that Matt uses "12 or 14 pedals; all these things to make his guitar not sound like a guitar," laughs Pat. "That's where a lot of the drone comes from. We're also getting some customised instruments from our friend. And then we're trying to manipulate things with effects on the vocals and on the drums and stuff."
"When I was in my teens I got really into Minor Threat and Converge and Slayer, so I started playing these really fast, complicated songs."
They have little confidence in their live show, despite being together three years and being on a large tour of Europe right now, with Canada and America later in the month. "I think when we toured on the first album we didn't really worry about that too much. We just wanted to play as a rock band, but things are getting a little more complicated." Their strength lies not in their confident prowess on stage, although they are trying to "make it better and more engaging and more fun". It seems their strength is in their abilities as musicians and songwriters first and foremost, and Pat was trained from an early age.
"My dad actually cut the cable, he said to save some money, and then he signed me up for guitar lessons and said if I played for a year he would get me a nice guitar. This was in 1995, so I was 10. So I played for a year and didn't watch so much TV, and then he got me a guitar. And actually I still play the same guitar, it's incredibly old, I love it. So that was pretty cool of him. And he played guitar as well, he was obsessed with this French guitar player, his name is Django Reinhardt. He's just a ridiculous guitar player and my dad was completely obsessed with him to the point where you'd want to slap him and hide the CDs 'cause it'd just be on all the time. So he took me to this jazz festival and then he found these books on how to play that way and it transcribes some of the songs. I can't read music, I'm really bad at reading tablature actually, but I took lessons until I could figure songs out myself. I'd be figuring out radio grunge songs. Then eventually I moved onto what I guess they call 'gypsy jazz', which I think is actually a racial slur in some places! But anyways, that's what the book was called," he laughs. "And that is pretty demanding technically, so I got into that, and then when I was in my teens I got really into Minor Threat and Converge and Slayer, so I started playing these really fast, complicated songs."
"Tonal quality" and "simple songs" are cited by Pat as positive influences. "Just the simplicity of things is really appealing to me, and this raw kind of thing, more about the vibe. Like a band like The Fire Engines who can't even play their instruments I enjoy." They're not trying to "maintain some sort of 'lo-fi' aesthetic", Pat argues in response to the press, "as if they know what they're talking about. But yeah we just want it to sound good, records that sound good to us for the most part were recorded in the late '70s and that was all done in professional studios, most of it. I mean you listen to Pink Flag, it sounds amazing! It's a crystal clear, huge, beautiful recording. But we just like the way they produced everything, like the drums, the guitars, they just sound amazing. Entertainment, that Gang of Four album, is just crystal clear production. Those are some of the bands that spur us on sometimes. So yeah, I don't feel like we're shooting for some blown out, trashy recording, we just want it to sound good, whatever that means to us."
Women are currently on tour in Europe, then Canada and the United States, including dates with DD/MM/YYYY and Manchild. Check their myspace for details.
Public Strain is out September 28 on Flemish Eye/Jagjaguwar,
pre-order vinyl/CD now here.
Posted by Sarah Gooding under Calgary, Canada
No Comments
---
No Responses to " Women interview "
Comments:
Leave a Reply