Campus A Low Hum 2011 highlights
Words by Sarah Gooding, Photos by Rachel Brandon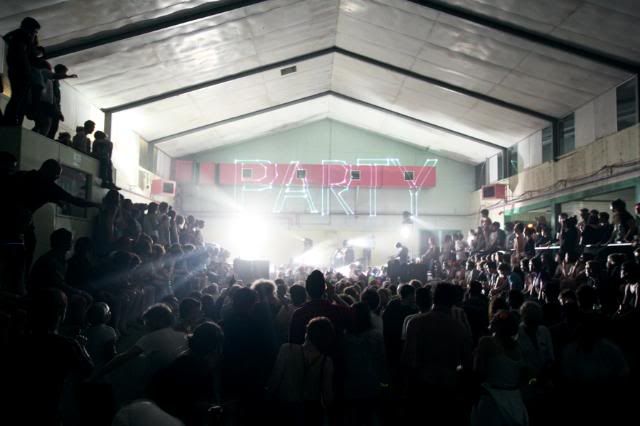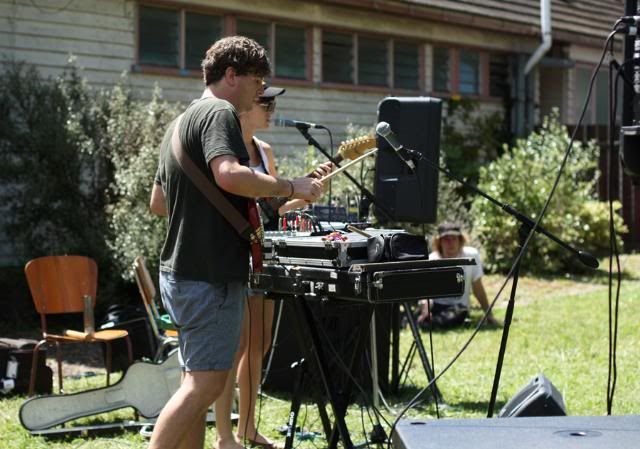 High Places
High Places' ramshackle beauty was always going to stand out. And after talking to Rob and Mary while waiting in line for dinner at the restaurant, I found out they didn't even mind the crowd invasion that happened during their first set at the assembly stage – despite Mary looking like she was fully glowering. Rob told me he enjoyed it! You just couldn't tell from his intense concentration. While the gyrating spring break-style crop top dancers really got in the way for me and others I talked to in the crowd, what was amazing was seeing Rob and Mary in their element. Their set the next day in the shade on the grass among the tall leafy trees was exactly the kind of setting I'd always dreamed of seeing them in. For a band that has so many songs about nature, jamming their songs while in the middle of it was beautiful.
No Zu
An unknown and unexpected but totally party-inspiring band, No Zu blew my mind with how much fun one band could inspire. Charlie from Bang! Bang! Eche! told us No Zu's is exactly the kind of music he wants to make. The unbridled glee and unstopping rhythms, the perfect trumpet flourishes and bass lines funkier and gruntier than The Rapture were insanely cool, and inspired the most joyous impromptu water fight I've ever seen. Plus no matter how hot it got (and it got ridiculously hot over that weekend) the band managed to keep on dancing and playing and singing pitch perfect.
The Golden Awesome
The talented Stefanimal's other project, The Golden Awesome's jaw-dropping set in the barn on the final night of Camp was serenely gorgeous. A huge sound composed of various melted parts, the band bonded together in such a way that the songs just grew until they burst. An unassuming but powerful presence with gorgeous, glittering songs, it was like no other shoegaze music ever existed. Everything stopped and ended there. They had me floored.
Orchestra of Spheres
Like an alien troupe descending on the stage, the Wellington four-piece showed up the throngs of loop pedal-reliant acts with their largely organic set up. A definite highlight of Camp was their song driven by the two female vocalists' completely absurd onomatopoeia. Their status as a spectacle – perhaps even novelty – band was ingrained, but they are by no means a joke. Their vocal parts, song structures and insane feel for rhythm made their set incredible.
Toro y Moi
The blog buzz band's hype was not a let down – this is a band that's polished to perfection. Clearly career musicians whose skills have been honed on a what is probably a gruelling tour schedule, all their parts were perfectly placed, and they were so much fun. Chaz's voice is even smoother live, and the whole band locks into a continuous and totally badass groove.
Glass Vaults
After the riveting videos of their set at Around The Wireless festival we had high hopes, and the band exceeded them by a mile. Eerie vocals and earth-shattering drums coupled with gorgeous, creative vocals and melodies played under intensely beautiful lights in the pool made for a magnetic experience. The band's ability to completely transform their songs into a subdued late morning set at the grassy shade area the next day was even more impressive.
"I really liked all the shows in the pool, I think it's just such a cool place and the way they've got the lights set up is just amazing, really beautiful" -Michael (Electricity/Lust)
Tantrums
Spacey and enigmatic, Tantrums seemed to capture a dark 90s attitude with their low moody singing and drums both acoustic and electronic. It was an eye opening style that took you away from the moment.
"They had the perfect blend of laptop, synths, drums and energy"

– Taylor (Kitsunegari)
Pond
That this funky psychedelic band came as such a surprise made their incredibly energetic set even more enjoyable. They only looked about 15 years old, though I'm told they're in their mid 20s. Their youthful playfulness and uninhibited experimentation set Pink Floyd style melodies with 70s funk and 60s other-worldliness.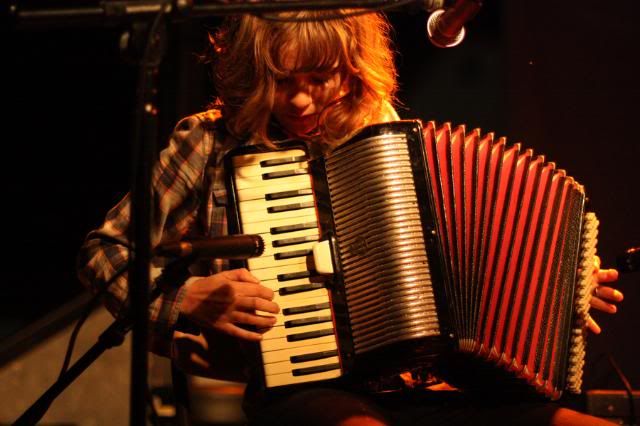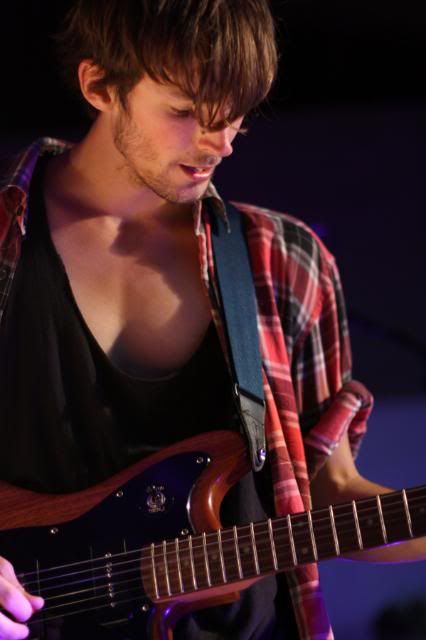 Secret Knives
Always a highlight, Ash's perfect pop tugs at the heartstrings like no other. According to Camp organiser Blink he's such a perfectionist that he tried to pull out of his 8pm Sunday slot in the week before Camp, saying he didn't feel ready. Fortunately Blink didn't let him – his beautiful dream pop drew a huge, eager crowd and left a lasting impression.
Disasteradio
I think the pool stage was designed for Disasteradio – he totally owned it with his emphatic dance moves and laser lights spelling out "PARTY" and "I LOVE YOU" at the end of his set. Another one of the handful of acts to be swarmed by stage invaders, his wife Christina's cameo during 'No Pulse' was visibly obscured but sounded brilliant.
"I really enjoyed Disasteradio's set last night in the pool – pretty mental"

– Ben (My Disco)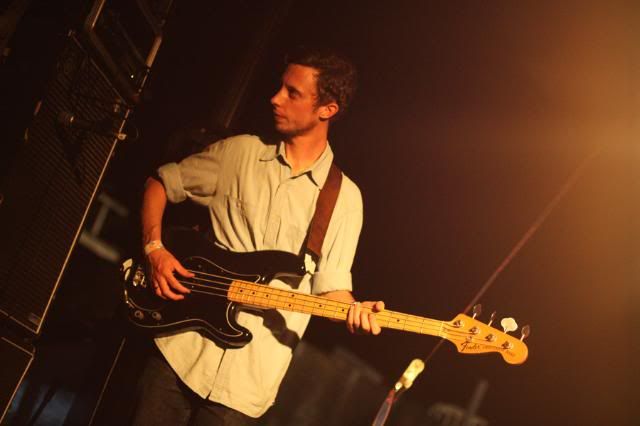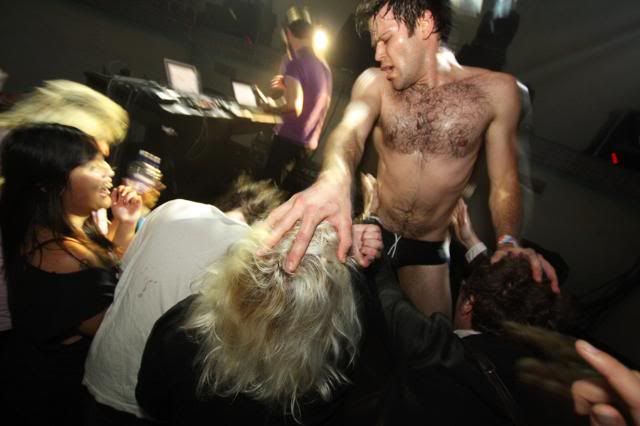 Captain Ahab
I think we're allowed to have 11 highlights when there are 70 bands on the bill. Honorable mention must go to the wonderfully mobile and homoerotic LA duo, who broke down all barriers between crowd and performer in the best way of recent memory. Stripping down to sweaty y-fronts and rampaging the cavernous room while graphic sexual innuendos played on the projection behind them. While I couldn't really hear anything very well because the bass was so stomping loud, their set was immensely fun and memorable.
View more photos from Campus A Low Hum 2011
Posted by Sarah Gooding under Bulls, New Zealand
[2] Comments
---
2 Responses to " Campus A Low Hum 2011 "
Comments:
Kirsten says:
February 19th, 2011 at 3:30 pm

Gorgeous photos. I really do need to learn how to take nice photos in the dark. We've got (daytime) photos and audio here http://www.radionz.co.nz/camp2011

Ivy says:
February 20th, 2011 at 11:40 pm

3 of 4 members of Pond are from Tame Impala.
No wonder they're awesome.
Leave a Reply