Super

8

Obsession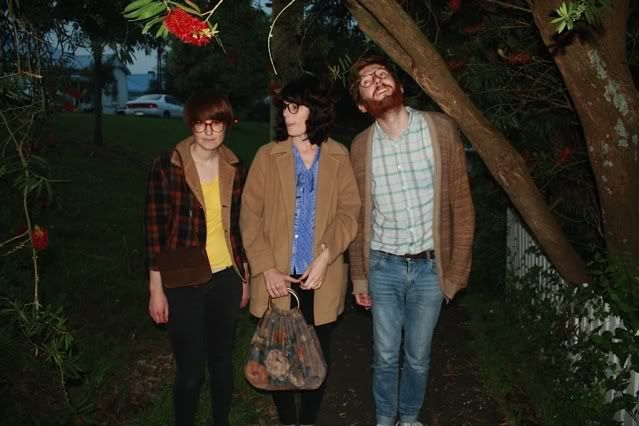 Auckland's Autumn Splendour have a new video to share that was shot on Super 8 film and processed in Germany. We got the band to explain what they're about and why they have an obsession with naming songs after themselves.
(EMJ) When did you start Autumn Splendour and has it always been the same line-up?
(AS: Natasha Cantwell) In the Autumn of 2009 Cait and I started the band with our friend Toby who has since moved to Dunedin. Ryan is our third bassist. He joined a year ago but he's always been part of the Autumn Splendour gang.
What is each of your musical backgrounds?
(N) I hadn't really played guitar before Autumn Splendour. We're all pretty much self-taught on the instruments we play in this band. I like how it gives us an unconventional approach to making music. I have a pretty spazzy style, but I'm cool with that.
(AS: Cait Roberts) I learnt to play the drums by playing along with friends who were kind enough to be patient with me. Ryan helped me out quite a bit.
(AS: Ryan Perry) I started playing bass when I joined Autumn Splendour but have played guitar for 10 years.
What do you all do away from the band?
(N) I'm a fashion photographer and artist.
(C) I recently graduated as a psychologist but am currently unemployed.
(R) Writing a thesis on human nature (not the band).
Why punk music? What attracts you to fast, loud, aggressive guitar music?
(N) It was never a conscious decision; the music that we play is just what comes out when we get together! There are a lot of musical genres that I enjoy listening to but wouldn't have nearly as much fun playing.
(C) I think loud aggressive music was a good way for me and Tash to vent our anger. Plus it's just an easier style of music for beginners – which is what we were when we started the band.
So far you've been pretty active in Auckland, but what about the rest of the country? Have you visited many other towns and how was your music received?
(N) We've played in Wellington and Christchurch and we've generally found the student and independent radio stations in New Zealand and Australia to be really supportive. Our show at Mighty Mighty was heaps of fun. Wellington showed me a great time!
(C) I thought Wellington was a cool audience – they seemed really into our music and seemed less inhibited or something.
"They represent things Natasha or I have said, or stories about extreme behaviour."
Auckland has a pretty solid alternative punk scene, have you played any particularly memorable shows?
(C)  I really like playing parties – so any house parties we played were memorable. There is less pressure and everyone is just having a good time rather than paying to see a band.
(R) My first performance was an impromptu set after The Crabbs at a house party in West Terrace. Memorably, Peter Crabbs introduced us as Awesome Blender.
(N) Pushing that over-eager drunk girl off the stage at Mighty Mighty was pretty memorable. I never know how far you can take things when you're on stage. She was fine though, drunk people bounce back.
You released your first EP on 7″ vinyl. Have you recovered the costs yet?
(C) Gosh, I have no idea.
(N) We still have some available for sale. Once they're all sold we'll almost break even! It was never a financially motivated decision. It's so exciting having your songs on vinyl, we just wanted to do it and make something we'd be proud of.
Are you about to release your debut album or another EP?
(N) Currently we're just releasing singles one by one rather than as a whole EP or album.
How does your new music differ from what's on your first EP?
(N) The EP is the first six songs we ever wrote, recorded only six months after we'd formed the band. We used to just write songs on the spot, now we spend a bit more time trying out different ideas.
(R) The new songs are darker and more aggressive. We've probably developed as musicians or something, but in the very least there is ever-increasing bass distortion.
(C) I think it has more depth to it – musically, that is. We're more confident to try out different things now. I'm not so worried about playing my drums "right" like I used to be.
You seem to like using your own names as song titles, 'Cait' on the first EP and now 'Natasha'. What do those songs represent?
(C) They represent things Natasha or I have said, or stories about extreme behaviour.
(N) All our songs are named after our friends, but I swear it's only a coincidence that we end up recording the songs about band members.
When is Ryan going to get a song, and what will it be about?
(R) I have one! Everyone is going to get to hear a recorded version really soon that we did at the same time as 'Natasha'. It's about schoolyard anxieties and a fear of germs. It's probably exaggerated.
You're releasing your new video today. Tell me about it?
(N) We're releasing a video for 'Malcolm', which is on the EP. My friend Tom and I shot this video before the band had recorded our new songs, but difficulties in getting the film processed in Germany has meant we've only just finished it now! It's shot on super 8 (which I'm obsessed with) and features a wannabe Malcolm getting ready and hyped up for a night out. It was inspired by the gin drinking and dancing habits of my friend (who has requested to remain nameless) who stars in the video and references one of my favourite artworks, 'Gordon's Makes Us Drunk' by Gilbert & George.
How can people find out more about Autumn Splendour and when can they next see you play live?
(C) : Come talk to us after gigs if you want to know more!
(N) We're playing on Saturday, January 21st at Bodega in Wellington with The Eversons and we're currently organising an Auckland gig with Mean Girls in February.
'Like' Autumn Splendour on Facebook
Posted by Nick Fulton under Auckland, New Zealand
No Comments
---
No Responses to " Autumn Splendour: interview and video premiere "
Comments:
Leave a Reply