… Without His Punx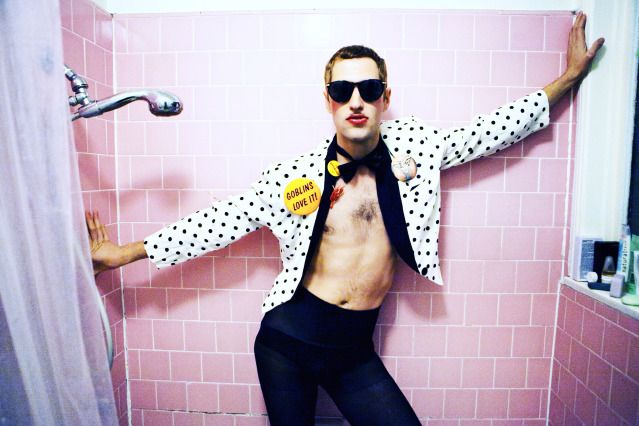 Hunx And His Punx first entered my life via Vice Magazine's New Garage Explosion, which went live in 2011. The documentary features a wave of new garage rock bands sweeping across America, including Ty Segall, Thee Oh Sees and Girls and details cities such as Memphis, Detroit and San Francisco. It also features one of the last interviews ever conducted with Jay Reatard, before his untimely death in January 2010. The documentary still blows my mind every time I watch it.
Back to Hunx – and Seth Bogart has just released (out February 28) his first so-called solo album, without any input from his regular punx, Shannon Shaw and Erin Emslie (although I'm sure they helped in some way). The album is titled Hairdresser Blues and it's first single 'Always Forever' is a sexy homage to sixties jingle-pop and the grimy sounds of classic new-wave bands like Richard Hell and the Voidoids and Blondie. Bogart achieves the perfect verse/chorus balance, changing his vocal style from singing to spoken word and transforming the song into a west-coast anthem, with his rich American accent providing the song with a picturesque bohemian backdrop. Bogart describes the album as his darkest work, with songs about a break-up, the lose of a dear friend and morning for his dead father. Many of the songs he doesn't even remember writing, just of finding them days later as a demo recorded on his computer. It's that kind of lost feeling that makes Hairdresser Blues stand out from his previous work. Here he's thinking about things a bit more, writing in a very disconnected, down-and -out punk way, akin to the attitudes of great punk records like Richard Hell's Destiny Street and The Clash's debut self-titled record. One particularly sad track is Bogart's tribute to his good friend Jay Reatard, 'Say Goodbye Before You Leave'. Describing the track, Bogart writes, "Sometimes I cry just when I listen to this song. I became really close with Jay Reatard the year before he died. He would call me at all hours of the night and we would talk about the craziest stuff. He took me on tour I think partly because he wanted my flamboyant punk band to freak out his hetero dominated audience. We had a lot of fun together even though he was obviously in a dark phase. I miss him dearly." With all the flamboyance that often surrounds Hunx And His Punx missing from this record, it opens a new chapter that exposes Seth Bogart. It's a pretty brave record to release when so many of the subjects are very personal, but it's a record that wins respect for revealing that personality.
Learn more and purchase Hairdresser Blues via Hardly Art.
Become a fan of Hunx And His Punx on Facebook
Posted by Nick Fulton under California, San Francisco, U.S.A
No Comments
---
No Responses to " Hunx "
Comments:
Leave a Reply